When:
Sunday, Nov. 5, 2017 at 12 p.m.
to
Wednesday, Nov. 8, 2017 at 12 p.m.

Where:
Brown Hotel
335 West Broadway
Louisville, Kentucky 40202

502-583-1234 (Group reservations) or toll free at 888-888-5252 and mention "NCSLA Regional Conference."

Reserve your hotel room online! Group Reservations Website





Take a tour of the Brown Hotel.

Conference Room Rate*:
Deluxe $113/night plus taxes.*
Luxury $133/night plus taxes.
Club Deluxe $143/night plus taxes.

State and Government members: a Deluxe room at the government rate of $113/night plus taxes may be reserved with proof of a government ID and/or payment with a government credit card.

*There's a limited number of rooms at this rate so make your reservation early before they are gone!

Transportation:
Airline Travel
Louisville International Airport (SDF) - located approximately 15 minutes (7 miles) from the Brown Hotel and is serviced by major airlines. Please visit the website for more information.

Airport Shuttle is complimentary and provided by the Brown Hotel. Once you have landed, please call 502-583-1234.

Cab/Uber fares cost approximately $25 to//from Louisville International Airport.

Driving Directions

Hotel Parking Rates:
Valet – $10 per night
Self (or Off-site at lot adjacent to Hotel) - $10 per night

Conference Host – Contact:
Christine Trout, Commissioner, KY ABC at 502-782-1001, or christy.trout@ky.gov.

2017 NORTHERN/SOUTHERN REGIONAL CONFERENCE
Louisville, Kentucky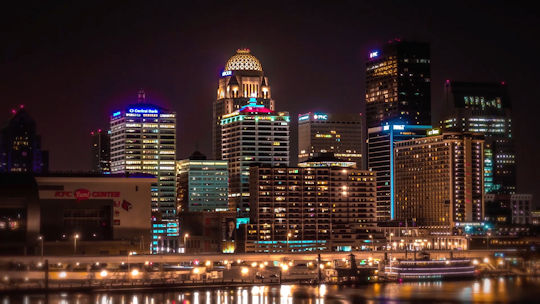 Business Agenda | Presenter Biographies

Conference Information

Welcome to the Bluegrass State and the birthplace of Kentucky Bourbon! Known as the "Derby City," Louisville offers visitors a unique cultural experience with one-of-a-kind attractions, like the legendary Churchill Downs, Louisville Slugger Museum & Factory, the Speed Art Museum, and the Muhammad Ali Center.

This year's regional conference theme is "Raise a Glass to the Shattered Ceiling," a toast to the rise of women leaders in the alcohol industry. Our business agenda will cover a number of diverse issues including advertising and branding, ethics, First Amendment and compliance, social responsibility, and state and local cooperation. You will also hear from women regulators and their challenges and successes in the industry. To view the entire business agenda and partial list of alcohol beverage experts serving as presenters, just click on the links above.

Social Networking
Conference attendees will begin their 'Urban Bourbon' experience on Sunday evening with a Welcome Reception at the Distilled Spirits Epicenter & Moonshine University, a one-of-a-kind educational facility that offers classes to entrepreneurs interested in the alcohol production industry. Moonshine University is the only intensive distilling workshop in the Un /ited States that can offer college credit.

Check out Kentucky's own version of See How it's Made! Choose one of two optional tours of Bluegrass State's many distilleries: Angel's Envy in Louisville and Jim Beam in Bardstown; or Maker's Mark in Loretto. You'll get to see a little of Kentucky's countryside while you are here. There's a third option that will be conducted at the hotel - Mixology 101 with Molly Wellman. She's a self-taught mixologist, entrepreneur, and author from Cincinnati, Ohio. Co-owner and operator of Wellman's Brands, Molly has immersed herself in the knowledge of craft and classic cocktails and fine spirits. Join her in this lively educational session of mixology basics. Limited tickets are available so act fast!

A night at the Frazier History Museum is also on tap for the President's Banquet. The museum brings history to life through exhibits, artifacts and live performances every day. The Frazier is the official starting point of the Kentucky Bourbon Trail, and hosts the exhibit, The Spirits of the Bluegrass: Prohibition and Kentucky.

We hope the planned events will give conference attendees a taste of Kentucky and a chance to discover why Kentucky's largest city has been named one of the "Best New Food Cities" in America.

Registration Information

Early conference registration ends Friday, October 13th so don't delay! The registration fee increases $50 after October 13, 2017. You have the option of paying by credit card or check. The registration fees are outlined below.

Registration Fees:

State Member = $425 ($475 after October 13, 2017)
State Member (NCSLA Travel Subsidy Program) = Fee Waived
TRAVEL BAN? Contact Pam Frantz for details about the NCSLA Travel Subsidy program.
Government Associate Member = $450 ($500 after October 13, 2017)
Associate Member = $575 ($625 after October 13, 2017)
Invitee of NCSLA President or Conference Host = $575 ($625 after October 13, 2017)
NCSLA Past President = Fee waived (NCSLA Bylaws Article I, Section 5B)
NCSLA Past President Spouse = Fee waived (NCSLA Bylaws Article I, Section 5B)
Spouse/Guest = $300 ($350 after October 13, 2017)
If you are paying by check* please make it payable and mail to "National Conference of State Liquor Administrators", 543 Long Hill Road, Gurnee, IL 60031 along with a copy of your registration.
*Please note that payment by check is not available after October 30, 2017.*
CANCELLATION POLICY: All refunds are subject to a $200.00 deduction. Due to contractual commitments there will be no refunds after October 23, 2017. NCSLA Federal Tax ID Number: 52-6043243.
ATTIRE: Attire for all scheduled business and social functions is business casual with the exception of the Banquet which is formal (suit/coat and tie for men; cocktail attire for women). The average high/low temperatures in Louisville are 57 degrees/37 degrees F, so be sure to pack for fall weather!
SPECIAL NEEDS: Individuals with disabilities or special dietary requirements who need special accommodations should email Jan Lile at jan.lile@ky.gov to make arrangements. Requests should be made no later than Oct. 30, 2017, to allow sufficient time for us to meet your needs.
LOOK WHO'S COMING!