When:
Sunday, October 28, 2018, at 1:00 pm
-to-
Tuesday, October 30, 2018, at 4:00 pm (followed by President's Dinner)

Where: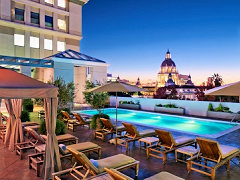 The Westin Pasadena
191 North Los Robles
Pasadena, CA 91101

Westin Reservations: 1-800-937-8461 (1-800-Westin1); Group reservations mention 2018 NCSLA Central/Western Regional Meeting.



Reserve your hotel room online! Group Reservations Website

Take a tour of the Westin Pasadena.

Conference Room Rate*: $155/night plus taxes

*Rates available 3 days before and after the conference, subject to hotel availability.

Transportation:

Airline Travel
The Westin Pasadena is centrally located in the Los Angeles region and is readily accessible from all area airports.

Burbank Airport (BUR) is located approximately 20 minutes (16 miles) from the Pasadena Westin.

Ontario Airport (ONT) is located approximately 40 minutes (37 miles) from the Pasadena Westin.

Los Angeles International Airport (LAX) is located approximately 35 minutes (28 miles) from the Pasadena Westin.

Driving Directions
Hotel Parking Rates:
Valet – $19 per day
Self – $14 per day


Conference Host – Contact:
Jennifer Smiley at (916) 419-2510 or Jennifer.Smiley@abc.ca.gov


NCSLA 2018 CENTRAL/WESTERN REGIONAL CONFERENCE
Pasadena, California
Conference Information
Business Agenda | Presenter Biographies
In the Chippewa language, "Pasadena" means "Crown of the Valley", and there is no doubt that Pasadena is indeed a crown jewel of the Los Angeles region. Home of the Rose Bowl and world-renown Tournament of Roses Parade, Jet Propulsion Laboratory and the California Institute of Technology, Pasadena offers much to businesses, visitors, and residents alike. Nestled in the foothills just east of downtown Los Angeles, Pasadena is centrally located to everything the region has to offer. Stay a little longer and spend some time visiting the Pasadena Museum of Art or the Huntington Library and Botanical Gardens. Or head to Hollywood and take a look at the famous sign before spending the day at Universal Studios. A relatively short drive will get you to Knott's Berry Farm or Disneyland. Or, if you prefer, the world-famous beaches of Santa Monica, Venice, Long Beach, Newport Beach, and so many more, are not too far away. There is so much to do . . . before or after the conference.
In keeping with the location of nearby Hollywood, this year's Central-Western Regional Conference is entitled "Lights, Camera, Action!" . . . and like a blockbuster movie, we will be packing a lot in to a short time. Our business agenda will cover a number of timely and diverse subjects, in which we pull back the curtain on the pressures and challenges facing state officials regulating this most dynamic of industries; visit with some local businesses and law enforcement to explore alcohol issues in the Pasadena area; learn about the hidden world of counterfeit goods and enforcement tools that can be applied to combat this massive economic crime; join some seasoned regulators as they discuss their experiences in regulating the alcoholic beverage industry; be inspired by how data can be effectively utilized to direct licensee education and prioritize resources; and so much more. To review the entire business agenda, click on the link below. The conference will conclude on Tuesday evening, October 30th, after the President's Dinner.
NCSLA and the California Department of Alcoholic Beverage Control invite you to join us in Pasadena to learn, to meet with regulators and colleagues, and to enjoy all that this conference and the City of Pasadena have to offer.
Registration Information
Early conference registration ends September 30, 2018, so don't delay! After that, the registration fee increases $50.00.
You have the option of paying by credit card or check. The registration fees are outlined below.
Registration Fees:
State Member = $450 ($500 after Sept. 30, 2018)
State Member (NCSLA Travel Subsidy Program) = Fee Waived
TRAVEL BAN? Contact Pam Frantz for details about the NCSLA Travel Subsidy program.
Government Associate Member = $500 ($550 after Sept. 30, 2018)
Associate Member = $600 ($650 after Sept. 30, 2018)
Invitee of NCSLA President or Conference Host = $600 ($650 after Sept. 30, 2018)
NCSLA Past President = Fee waived (NCSLA Bylaws Article I, Section 5B)
NCSLA Past President Spouse = Fee waived (NCSLA Bylaws Article I, Section 5B)
Spouse/Guest = $300 ($350 after Sept. 30, 2018)
Guest Under 21 Years Old = $200 ($250 after Sept. 30, 2018)
If you are paying by check* please make it payable and mail to " National Conference of State Liquor Administrators, 543 Long Hill Road, Gurnee, IL 60031" along with a copy of your registration.
*Please note that payment by check is not available after October 13th.*
CANCELLATION POLICY: All refunds are subject to a $200.00 deduction. Due to contractual commitments there will be no refunds after October 13, 2018. NCSLA Federal Tax ID Number: 52-6043243.
ATTIRE: Attire for all scheduled business and social functions is business casual, with the exception of the Banquet which is formal (suit/coat and tie for men; resort attire/dress for women). The average high/low temperatures in Pasadena are 80° / 57° F . . . so pretty much perfect!
SPECIAL NEEDS: Individuals with disabilities or special dietary requirements who need special accommodations should email Jennifer Smiley to make arrangements. Requests should be made no later than October 13, 2018, to allow sufficient time for us to meet your needs.